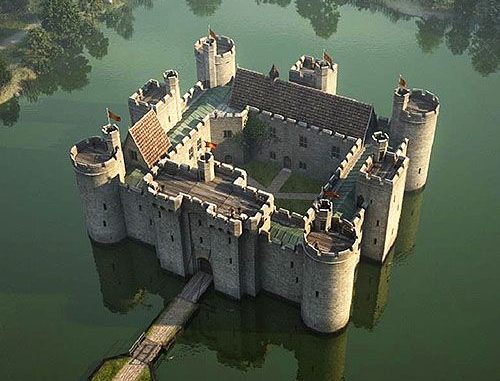 More than 1300 crypto coins has been issued targeting different sectors all over the world but still people are busy chasing Bitcoin. Around 40% of the Cryptocurrency Market Capitalizations is dominated by Bitcoin.
However, blockchain technology, which underlies bitcoin, has significant potential. Not only currencies, blockchain is disrupting the way every sector operates (detailed in Market Outlook section).
Moat is an analogy of Moated Castle where the castle is protected by deep dug, broad ditch, filled with water.
The term "MOAT" was first coined by Legendary Investor Warren Buffett in financial world which refers to a business ability to maintain competitive advantages over its competitors in order to protect its long-term profits and market share from competing firms.
There remains a significant need in the crypto market for a due diligence-backed investment methodology to avoid boom and bust cycles.
We present you the MoatCoin to solve this problem. It's an Ethereum blockchain based ERC20 token which seeks to establish a streamlined platform, whereby investors holds only "MoatCoin" which consists large range of research-backed cryptos through one simple channel, avoiding the need for their own due diligence and subscription process.
Our investment will mostly be focused on emerging blockchain companies that have a focus on and clear path towards generating value for token holders (detailed in Market Outlook Section).
Token holders will be benefited with the token appreciation aligned with the Net Asset Value (NAV) of the fund (detailed in Performance Section).
ETH based Smart Contract and Cryptographic Auditing makes whole process immutable, secure and transparent (detailed in Security and Transparency Section).
We look forward to build a secured solution for managing portfolios on blockchain ecosystem and success for our coin holders through our platform.
Table of Content
Market Outlook.
Mechanism.
Security & Transparency.
Cryptography Audit.
Investing Strategy.
Performance and Return.
Problems.
Future Innovation.
About & Contact.
Market Outlook
Alone in 2017, Crypto Market surpassed the half trillion capitalization mark and around 3.7 billion dollars were raised via ICOs and surpassed early stage VC funding.
This clearly shows the craze of blockchain based crypto technology in the emerging world. Google Trend for term "ICO" has also exponentially increased in 2017.
The emergence of token offerings backed by Ethereum (ERC20) has been an undeniable catalyst for cryptos demand.
And it's not a Ponzi scheme. There are many coin offerings which are genuinely working to complete the target they promised to achieve.
These cryptos are governed by blockchain technology which is an incorruptible global immutable digital ledger of economic transactions that can be programmed to record not just financial transactions but virtually everything of value.
2017 was a great year for ICOs. Not only currencies, blockchain is disrupting the way every sector operates.
What more to say? Even Porn Industry is shifting to blockchain technology. Spankchain (content warning) is revolutionizing the Adult Industry. They have a pretty good introductory video.
However, MoatCoin is here to disrupt the Portfolio Management Service (PMS). Just hold 1 token of MoatCoin and you are benefited with:
Exposure to range of cryptos and high quality ICOs with one token.
Diversification of Investment in growth cryptocurrencies. Non-diversified risk eliminated.
Transparent, secured and research backed investment.
World's assets under management (AUM) crossed 84.9 trillion in 2016. It's a very large industry and the need of transparency and security is utmost. ICO even crossed Early Stage Venture Capital Funding.
Blockchain Technology will completely revolutionize the PMS industry all over the world. Increased security and transparency. Smart contracts will take care of all fees deductions, profit distribution among the participants of fund.
MoatCoin has 3 target markets:
People who only hold bitcoin. There are around half a million people who own more than 1 bitcoin. Our goal is to provide diversification to these customers. They can now invest in a mix of different currencies that help them to reduce volatility and get exposure to a large number of up-and-coming coins.
As a benchmark for our industry. Our goal is to provide an index that helps people get a benchmark view of the cryptocurrency market, similar to what the Sensex does for stocks.
People with no exposure to the asset class. As more and more people learn about cryptocurrencies, they become interested in investing but are scared of the volatility and complex process. They can easily purchase our token using an in-house exchange and indirectly stay invested with wide range of crypto assets.
Over and above, our blockchain based protocol will generate trust and transparency.
Mechanism
In this section, we will discuss the technical aspect of underlying technology, blockchain and how it will help us to revolutionize the PMS industry.
MoatCoin is somewhat similar to an ETF. You buy a coin and keep it in your wallet. That token then represents the Net Asset Value of our crypto asset portfolio. Being a close-ended fund, the token will be unredeemable. Though, it will be available to exchange in the open market.
Here's the quick snapshot of mechanism behind MoatCoin (Closed-End Crypto Fund).
MoatCoin will be issued once via an ICO (Initial Coin Offering).
Each coin will show your membership in the fund and accordingly entitle to proportionate profits.
Once the ICO is over, all the coins will be credited to your given wallet which supports ERC20 tokens (Eg. Mist, Metamask, MEW etc).
Now, you can deposit/withdraw these tokens into our in-house exchange. Buy more of it or sell it to others.
MoatCoin is an ERC20 token build by a smart contract deployed on Ethereum blockchain. A proper record of all the token holders will be maintained on ETH blockchain.
All the funds raised via ICO will be allocated to the wide range of research-backed crypto assets and the same will be deployed to Ethereum blockchain (covered more in next section).
Anyone can check the performance of the portfolio, crypto assets we are invested in and all the sets of internal transactions.
Security & Transparency
We guarantee you the security and transparency in following ways.
All the MoatCoin tokens are tokenized on Ethereum blockchain. Each and every token are backed by a smart contract which can be viewed anytime.
An Illustration. BitDegree — evolutionizing education with blockchain — raised ICO using Etheruem Smart Contract.
You can easily track down all the stats. Total supply, number of token holders, transactions etc. Following is the contract public address linked to the page.
So smart contract is a nice way to ensure transparency and security. All the transactions on contract are such immutable that, once an accidental bug froze $280 million worth ether in a cryptocurrency wallet.
MoatCoin tokens will ensure your proof of membership in the fund and it can't be manipulated as all the information will be deployed and updated on the immutable Ethereum blockchain.
Our ICO will be governed by a smart contract (solidity code) which will be pushed to our public Github repo to maintain the transparency and you can also interact with the smart contract on the myetherwallet website.
Anyone can apply for ICO but to list your tokens on our in-house exchange you need to complete an eKYC process. Either you or core members can access your information. Rest, your information will only be shared with Government authorities when asked.
Our methodology only includes established exchanges such as Poloniex, Bittrex and Kraken, and by using API technology to build an Auditable Exchange Accounts, so that all the investors will able to see in real-time, current balances in the account and all the transactions we are executing.
As the crypto market is not yet regulated so we will only use crypto exchanges for exchanging Ethereum (proceeds from ICO) with a wide range of different crypto tokens. After that, all the crypto assets will be withdrawn to their respective secured wallets (MEW for ETH and ERC20 tokens, Gatehub for ripple etc).
A multi sign smart contract will be implemented to verify a transaction only if multiple stakeholders has agreed to the terms.
Our preference is to use exchanges that have Proof of Solvency (PoS) implemented and the cold storage reserves can be audited, as in Poloniex and Kraken. We are also planning to keep a certain amount of funds in Cold Storage to ensure the safety.
The portfolio will be publicly available to everyone and all the transactions can be seen via a read-only exchange API which allow anyone to verify the balance and trade history of the account and we will certainly not compromise on security.
Cryptography Audit is another mind-blowing innovation which ensures the Auditing of accounts on blockchains.
The underlying concept is simple. Just keep updating the important sets of data to blockchain on particular time intervals so that the information can't be manipulated later on.
Cryptographic Auditing will give its investors a number of benefits when it comes to transparently verify where funds are at any time, which will help to imprint trust and to see what is happening with the funds, trading history, portfolio balances etc. As this is built into the platform, this method of verifying funds will always be there.
Using the exchange API, a regular snapshot of portfolio balances and transactions will be hashed onto an Ethereum Blockchain once a day to produce an auditable history of these funds such as:
When they were traded?
How much was traded?
The average price of trades.
No. of token holders.
Volume traded.
Transaction history.
Portfolio balance at the given point in time.
The medium of exchange.
All the while, making it impossible to change past activity. Effectively providing an immutable and verifiable track record.
It is clear to see that MoatCoin is trying to develop the right set of tools to offer its investors the best possible platform and to show the world how simple and transparent trading funds can be.
Investing Methodology
We are following a rigid set of rules to build a long run sustainable portfolio.
Our preference will be to pick crypto coins with a market cap of 100 million to 1 billion. Currently, around 100 to 150 coins come under this category.
We spend most of the time reading their whitepaper, communicating with their representative on Telegram, discussing with their community on Reddit, following their Twitter handle, reading their Medium blogs etc to determine the authenticity and implied value of their coins.
We choose ETH as a base currency for all the operations. Minimum 15% of the total ETH ICO proceeds will be kept as reserve and max 30% based on the prevailing market conditions for risk management. ICO payment, transaction fees, managerial charges etc expenses will be paid in ETH.
Our portfolio will be diversified into many evolving blockchain based companies in different sectors.
No single coin will represent more than 15% of the portfolio and preferably we will send the coins to cold storage after purchasing for optimal security.
Our second coin offering (if any) will be raised at the NAV value of the total portfolio at that time so it will not deflate the valuation of existing coin holders.
There are many legal problems with many other crypto currencies like Bitcoin which is also used for illegal activities like money laundering, financing of terrorism etc.
That is why, our preference will be to mainly target coins which are less prone to future regulations and are collaborating with Nations, Corporate Giants etc. Ripple, Civic, Power Ledge are some of these types of coins as explained below.
Ripple is an open payment network within which that currency is transferred cross borders. It is simplifying the process of currency exchanging and processing delays at almost nil charges with 100% transparency and security.
Billions of trillions of funds are transfered globally at extremely high fees and Ripple is here to rescue. I don't think, any regulations will act against it.
Many corporate gaints are also joining Ripple network to ease the cross border payments.
A Secure Identity Ecosystem, Civic is solving the issue of identity through their decentralized architecture with the blockchain and biometrics on the mobile device. Their platform provides multi-factor authentication without a username, password, third-party authenticator, or physical hardware token. Again, I don't see any legal problems as it's not hiding the identity of users.
Another astonishing innovation in the decentralised space is Power Ledger using blockchain to digitise energy.
Thai-Government backed renewable energy developer BCPG and Power Ledger, have announced an agreement to bring peer-to-peer renewable energy trading to Thailand (source).
You see, how these crypto coins are collaborating with governments and corporate gaints hence making themselves sustainable. And that's what "MoatCoin" is planning to achieve — finding crypto assets with high competitive advantages over others in order to protect its long-term sustainability.
Performance
Our portfolio performance will be the sum total value of the Net Asset under management. MoatCoin NAV will be displayed live on our website.
We will surely provide Quarterly reports highlighting the qualitative aspect of our performance and explaining our future vision.
A specific portion of our website will be dedicated to tracking numbers and statistics of our portfolio from different aspects. We will surely provide a better communication channels to contact our support team.
Our internal transaction details will be publicly available via exchange API. And our capital allocation can be easily viewed from our blockchain public address of our multi-signature company's account.
Problems
As of now, the crypto market is not a regulated one. Legal bodies are in process to draft rules to govern this space. It's still a grey area. However, government asured not to take any knee jerk decision on crypto currencies.
Our approach is streamlined towards minimizing the legal barriers. Our preferred coins will be less prone to future legal problems as already explained in "Investing Methodology" section.
And proper eKYC procedure will be carried out to create an account on our in-house exchange which is the only way to buy/sell MoatCoins.
We will surely align with required legal procedures. We assure you to comply with national laws whenever they are implemented.
Future Innovation
We can leverage blockchain based protocol to a greater extent. For example:
A smart contract based polling support for token holders. Every investment and decision regarding will be backed by the community as whole.
Tokenization of equity, real estate on blockchains.
Showcase your strategy, seek funds from people, issue token and manage it. Create your own portfolio and let others can invest in their PFs.
We will soon launch introductory videos to educate you more about this concept.
Don't forget to fill up following form to stay updated with our upcoming endeavours.
About & Contact
MoatCoin is an initiative by Fintrig Tech Pvt Ltd seeks to revolutionize the Portfolio Management Service by shifting all related activities on BlockChain and build a more secure & transparent way for portfolio to manage portfolio.
You can send email to connect@fintrig.com or join our community at MoatCoin.